GarCitrin® is clinically proven to enhance lean body mass and support healthy body composition. GarCitrin® is a patent pending product combining the weight management benefits of hydroxycitric acid with the bioavailability-enhancing effects of garcinol, a polyisoprenylated benzophenone isolated from Garcinia cambogia and Garcinia indica. Garcinol enhances the biological action of HCA and contributes antioxidant activity to the formulation.
Citrin®** products from Sabinsa Corporation are standardized to contain a minimum of 50% hydroxycitric acid(-HCA) as salts of nutritionally essential minerals including calcium, potassium, and magnesium.
The potential of (-) HCA as a weight-lowering compound has been recognized since the 1970's, and is supported by clinical data4-8. However, clinical studies have sometimes shown inconclusive data9, most likely due to poor bioavailability of HCA in the cytosol of target cells. A high-fiber diet is thought to reduce the absorption of HCA. Because its efficacy in inhibiting ATP citrate lyase depends entirely on the presence of HCA inside the target cell, reduced HCA absorption would decrease its weight-lowering effects.
Garcinol is a polyisoprenylated benzophenone derived from Garcinia species. Garcinol is known to be an antioxidant (emulsified garcinol suppresses superoxide anion similarly to DL-alpha-tocopherol), anticarcinogen and antimicrobial. Garcinia cambogia (Malabar tamarind, brindall berry) and Garcinia indica (kokum) have a history of traditional culinary use in India.
The efficacy and safety of the combination of (-) HCA and garcinol in supporting healthy body composition and weight management is supported by clinical data. The combination consisting of 500 mg of calcium salt of HCA and 25 mg of garcinol (NC) was evaluated in a double-blind 12 weeks clinical study against the formula containing 500 mg of calcium salt HCA (C). The study was carried on 46 overweight female volunteers (BMI greater than 25). Participants were instructed to take one capsule of either active or placebo formula three times a day, half an hour before a meal. Each participant was asked to maintain her previous daily physical exercise and eating habits. In addition, physical activity was monitored based on a questionnaire before and during the trial. The participants were evaluated at the baseline, weeks 2, 4, 6, 8, 10 and 12. The following clinical parameters were evaluated at each visit: total body weight , body composition by the bioelectric impedance method, self-assessed appetite and energy levels, pulse rate and blood pressure. During the 12 week trial, the mean values in group NC for body weight and fat content significantly decreased, whereas lean body mass and total body water significantly increased compared to the baseline values and C group values. The appetite levels were significantly less in the NC group than the C group, whereas energy levels were equally increased in both study groups as compared to the baseline. No subjective or objective adverse effects were reported in the course of this study. The pulse rate, systolic and diastolic blood pressure were maintained at the same level throughout the study.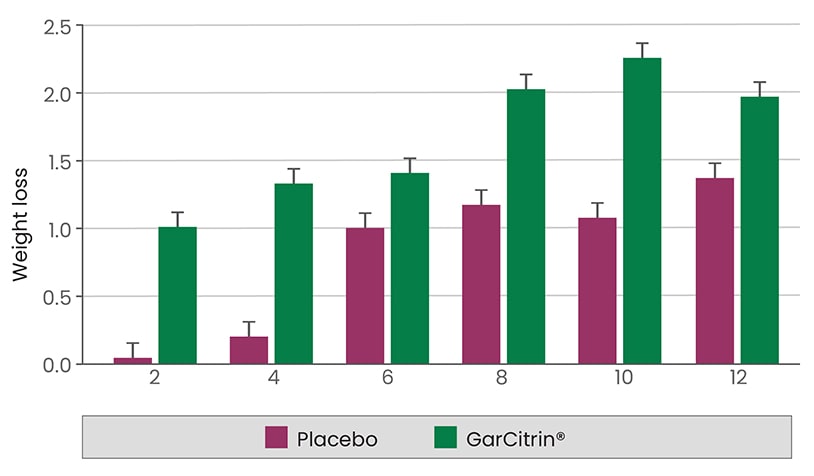 | Weeks | 2 | 4 | 6 | 8 | 10 | 12 |
| --- | --- | --- | --- | --- | --- | --- |
| Placebo | 0.06 | 0.23 | 1.01 | 1.22 | 1.13 | 1.37 |
| GarCitrin® | 1.03 | 1.36 | 1.44 | 2.03 | 2.31 | 1.99 |
Effect of the two formulations on weight loss